Immersion Coil Heat Exchangers
---
Immersion Coil Heat Exchangers have small tubes made out of flexible fluoropolymer that are braided into coils. Coils can be installed into almost any tank configuration. Braids are separated by spacers for optimum thermal performance.
Unlike some immersion coils made of sub-quality material, Niche tubing is made of high-quality FEP, PFA or proprietary Q-Series resins. As the original manufacturer of fluoropolymer heat exchangers, Niche has the tightest quality specs and the most experience solving scale and fouling issues.
Niche heat exchangers feature braided tubing bundles and unique fused ends that provide significantly better heat transfer from a smaller footprint than similar heat exchangers, allowing installation in virtually any type of tank configuration. Niche's proprietary honeycomb process ensures long service life with no leaks or thermo-mechanical failures commonly found on other heat exchangers.
With its experience in fluoropolymer heat exchangers, Niche can help supply OEMs and tank fabricators to solve any size and type of application they may encounter. Niche offers three styles of immersion coil heat exchangers: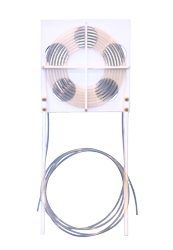 Minicoil
Minicoils made with fluoropolymer tubing are used to control temperatures in laboratory baths and small plating production tanks where corrosion is a concern. Keep Reading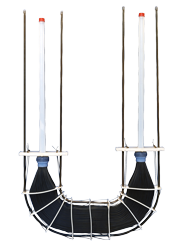 Slimline Coil
Primarily used in steel pickling, metal finishing and processing. Slimline Heat Exchangers utilize a proprietary resin that improves durability and temperature/pressure capability. Keep Reading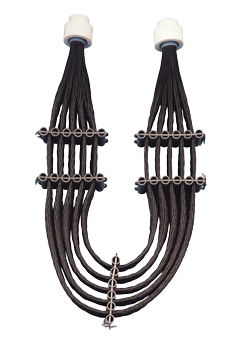 Supercoil
Supercoil plating heat exchangers made of fluoropolymer resist the chemicals used in electroplating, etching, anodizing, stripping, and similar tank-based operations. Keep Reading
Minicoil
---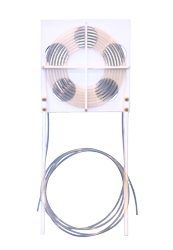 Niche Minicoil Fluoropolymer Heat Exchangers, are used primarily in small metal finishing baths where corrosion is often a problem, and in small production tanks and laboratory baths.
The chemically inert, well-known nonstick characteristics of fluoropolymers reduce operating costs by resisting corrosion that causes fouling and scale buildup. The inherently high electrical resistance also helps prevent short circuits and stray currents in the plating baths.
Tubing may be selected in a variety of resins. For electro less nickel applications, Niche offers Q-Series tubing in a protective polypropylene or PTFE frame. For chrome and other plating applications, it offers FEP tubing in a protective CPVC or PTFE frame.
Key Features
Reduces operating and maintenance costs
No fouling or scaling
Tubing in a variety of resins
Slimline Coil
---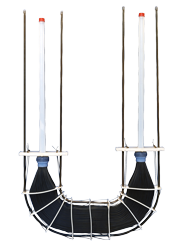 These immersion heat exchangers are popular in metal finishing and chemical processing applications, and are especially suited to batch and continuous steel pickling applications. Unlike some immersion coils made of sub-quality FPI, Niche fluoropolymer tubing virtually eliminates corrosion and fouling, which reduces operating costs through reliable, maintenance-free operation and long service life.
Slimline heat exchangers are available in a choice of two tubing materials: standard FEP and proprietary "Q" resin that extends pressure and temperature performance.
The Q-Series Slimline coils are preferred for efficiency by avoiding desuperheating in steam heat applications. In metal processing, high-efficiency Niche Slimline Coil™ Heat Exchangers also save energy, reduce waste, and cut processing costs by minimizing acid consumption and spent pickle liquor disposal.
Key Features
Reduces operating and maintenance costs
No fouling or scaling
Energy efficient by avoiding desuperheating
U-shape or straight configurations
Lengths from 4 to 16 feet
Supercoil
---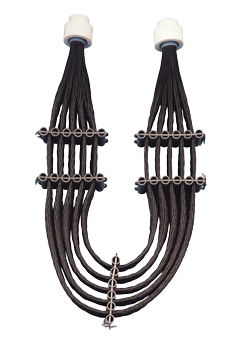 Volume metal finishing operations use Niche Supercoil Heat Exchangers, for high-efficiency heating and cooling. The well-known non-stick characteristics of fluoropolymer resins resist scale buildup. Its inherently inert character prevents corrosion and fouling. Its high electrical resistance minimizes the effects of stray currents in electroplating tanks. Immersion heat exchangers made with other materials have hidden costs in the form of maintenance and reduced heating efficiency caused by scale buildup.
Supercoils are available in FEP as well as in proprietary Q-Series tubing formulations. Q-Series coils are made using a special fluorocarbon compound that significantly improves thermal efficiency and increases temperature and pressure capabilities. Q-Series Supercoils are ideal for most metal finishing operations, particularly those involving electro less nickel and copper plating. They provide twice the heat transfer rate, which allows the overall length of the Supercoil to be decreased to fit smaller finishing tanks.
Applications include electroplating, electroforming and electro less plating baths, acidic and alkaline solutions for etching, chemical milling, anodizing, cleaning, stripping, electro polishing and similar operations.
Key Features
Reduces operating and maintenance costs
No fouling or scaling
Tubing in a variety of resins to match different plating solutions
Efficient heating and cooling