High Purity Fluoropolymer Tubing and Pipe
---
High Purity Fluoropolymer Tubing and Pipe has low extractable levels, allowing OEM equipment makers and process plant operators to be confident of meeting quality objectives. Of course, fluoropolymer pipe also has the benefits of an inert material that lowers maintenance costs and increases service life. High Purity Fluoropolymer tubing and pipe is especially useful in highly corrosive applications tied to high purity chemicals and electronics chemicals.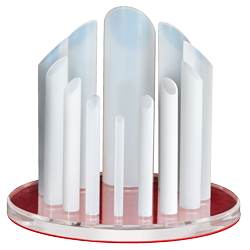 Fluoropolymer Pipe
Ultrahigh-purity PFA pipe is a rigid, high pressure alternative to flexible tubing, offering the same cleanliness. Keep Reading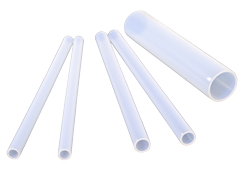 Ultra High Purity Tubing
Ultrahigh-purity PFA tubing is the first choice for applications in which purity and low extractables are imperative. Keep Reading
Fluoropolymer Pipe
---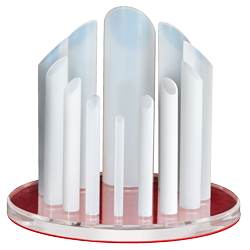 Leached contaminants can be avoided by selecting a pipes made from ultrahigh-purity PFA resin. It offers the same non-stick performance and corrosion resistance of regular PFA fluoropolymer, with the added reassurance of ultrahigh purity. For a given size, Schedule 40 pipe and Schedule 80 pipe have the same outside diameter but different wall thicknesses.
Key Features
Temperature service range of -275°F to 500°F
Natural in color
Exceptional physical and chemical resistance
Standard straight lengths of 10FT, custom lengths available upon request
Ultra High Purity Tubing
---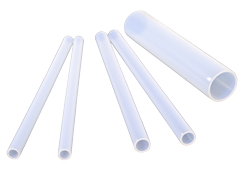 Niche Fluor-X fluoropolymer tubing is designed to meet the exact high purity requirements of the semiconductor industry and meets Semi F-57 standards. Niche produces its Fluor-X tubing under strict standards utilizing premium high-purity grades of PFA. Specifications defining exact resin grade and/or manufacturer can easily be accommodated. UHP-PFA exhibits a high temperature capability, along with the low extractable levels and low reactivity characteristics required in ultrahigh-purity chemical and water applications.
Niche dual-containment fluoropolymer tubing consists of two tubes, one inside the other. If the primary tube fails, then the secondary tube contains the hazardous liquid. Installation is easy and affordable because heat bending is not required and running up to 500 feet reduces the need for connections. The ultrahigh-purity (UHP) fluoropolymer resists corrosion and is low-extractable. The secondary (outside) tube is available in colors for quick process/chemical identification.
Key Features
Unmatched purity that meets the toughest standards in the semiconductor market
Temperature service range of -320°F to 500°F
Low permeability
Exceptional physical and chemical resistance